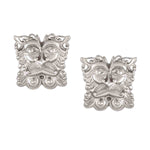 As a jewelry artist, and the urging of mask wearing during this pandemic have lead me to explore the history of masks and how I might visually incorporate a mask into my metal smithing.
 Masks have had their influence on Modern art movements, with artist like Pablo Picasso and Matisse who found masks of Western Oceania as inspiration. I too, am hoping to express our human spirit just like the first Americans who carved emblems of themselves and their surroundings into totem poles and masks.
 While some masks and masked ceremonies have died out over the years, other cultures have held onto their traditions. The Venetian Carnival Masks come to mind as well as the Mexican Day of the Dead. In general masks tend to represent spirits or beings important to the ritual in which the mask is used.
 My inspiration was the Covad virus. To create a mask that was a universal icon, symbolizing respect for others. A mask without any associated religious or social customs. A mask that would subtly promote respect others and acknowledge our connected universe. I believe a mask can be a transformative experience, just look  at Halloween. 
 Masks have been an important cultural experience. Like artists before me, I am reacting to a social event. I have created a subtle mask-like image that can be worn as pendant and or as earrings and can be ordered in silver or gold. Let's embrace the mask, making it an important part in our universal fight to end this virus.