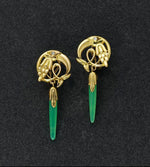 Chrysoprase was known to be a favorite of Alexander the Great. Perhaps, because of it's delightful green apple color and rumors promoting love, compassion, joy and self-confidence—traits, I'm sure, desired by all conquerors.
Chrysoprase is composed of crystals so fine, they are not able to been seen by the naked eye, unlike amethyst, citrine and other quartz gemstones. Chrysoprase is the most valuable of the Chalcedony family of gemstones and was often mistaken to be emeralds by ancient jewelers. Today we see Chrysoprase commonly used in fine jewelry. I used it in the Crane earring above, creating a delightful splash of color and movement.
This beautiful stone is on the list of birthstones both for May and June and those of us who aspire to conquer the world.